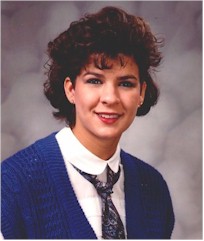 Jolynne was born in a small town in the Mississippi Delta. She has an older sister and her parents remain married after 40 plus years.
Her family moved just outside of Jackson, Mississippi were she started school.
She was involved in several activities in school. She was a cheerleader in Junior High. She played in the band. She carried the xylophones in the marching band. She was on the swim team and took third in the state in the back stroke. She was in the show choir in high school.
She attended college and worked toward a degree in child education. She changed majors and finished with a bachelors degree in communications.
She and I were married the summer after her graduation. We moved to Oklahoma. About four and a half years later we had a baby girl. We moved back to Mississippi where Jolynne now rests.